UPDATE:  OCTOBER 19, 2018

St. Anne's – this magnificent, iconic edifice – is destined for the wrecking ball.  Google "St. Anne's, Fall River" for articles about its closing.
Tattered Fabric: Fall River's Lizzie Borden
Located on South Main Street, across from Kennedy Park in Lizzie's Borden's Fall River, is this magnificent Catholic Church built by French Canadian immigrants in the early 1900's.  It is one of the iconic skyline structures immediately recognizable upon the Braga Bridge approach to Fall River.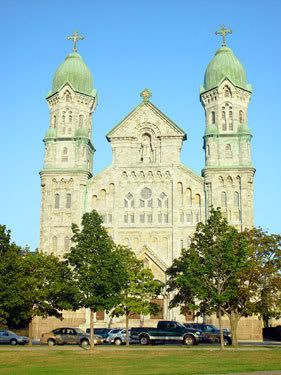 This structure was put on the National Historic Register of buildings in 1983.
St. Anne's Parish was founded in 1869 when there were about 500-600 French families in the city.  The Church was founded in 1894.  In 1900, Fall River had a population of slightly more than 100,000 people, of which nearly 40,000 were French.  The surge of French Canadian immigrants at the turn of the Century came from the agricultural crisis in Quebec.  They had a profound influence in the labor, language and culture.  Even by the 1930's, Fall River still kept sort of a French flavor, and even today one comes across…
View original post 368 more words